A Ruined World
Kelemvor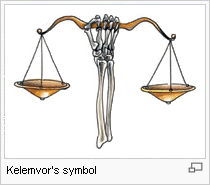 Kelemvor (pronounced KELL-em-vor) the Lord of Death and Judge of the Damned is the god of death and the dead. He is known to be fair, yet cold. Kelemvor urges knowledge that death is a natural part of life and should not be feared as long as it is understood.
In his mortal days, Kelemvor was a skilled mercenary, with the heart of a noble paladin. Kelemvor Lyonsbane was a skilled human fighter best known for his association with the adventurers Cyric and Midnight, who later took up the mantel of Mystra.
He is fiercely opposed to necromancy making him an ally to deities such as the Morninglord, Lathander who also strongly oppose undeath. Kelemvor maintains practical alliances with good and neutral-aligned gods of death in other pantheons.